Manage Projects
Projects
Projects are used in vFlow to help you organise your content, and also to allow you to share content with other Users if you have a multi-user licence.
Adding a project
To add a project you simply need to give it a name. If the account logo has been set, this logo will be used as the default, but you can change this within the project.
Editing a project
Clicking on the project will take you to the list of Studies and Reviews, which you can learn more about here. But you can also edit the project title here by clicking on it, and you can set a Logo for the project by selecting the edit logo option, which appears when you hover over the logo.

On the project card you will be able to see the count of Studies and Reviews

within the Project.
You can remove a Project by selecting the

on the Project card this will remove all Studies within the project.
Team Projects
If you have a multi-user licence you can share your projects with other active users on the licence. Share your project by clicking on the Share icon

and adding users to the list. The number of users you have shared a Project with will be shown next to the icon.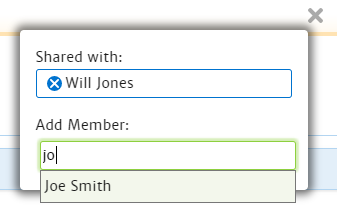 Start typing the team member's name, and then select them from the drop-down list. You can remove Team members by clicking the

next to their name.
Team members cannot change the project details, or affect other team members, but other than that they can do anything within the project that the owner can do.
This is most useful when you have a team of people collecting data and you want all the studies uploaded into a single project.
They will see this Project appear in their 'Team Projects' list. They are able to remove themselves from the Project team if they wish.
It is not currently possible to transfer ownership of a Project to a different team member.